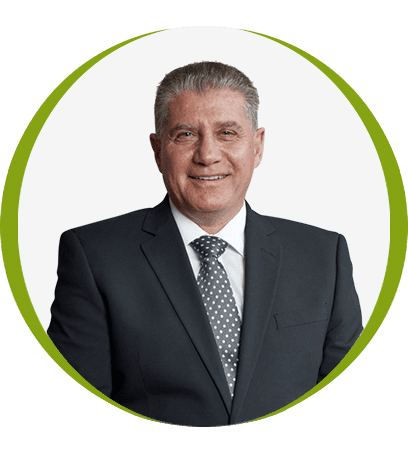 Qualifications
Diploma of Banking and Finance  (Institute of Financial Services).
PS 146 Compliant (Financial  Services).
Other
Order of Australia Medal. OAM.
On 13 June 2022 JT was awarded an OAM in the Queen's Birthday Honours List for JT's years of "outstanding and meritorious service to the community and to business".
Papal Knighthood. KSS.
On 18 December 2011 a Papal Knighthood. KSS. in the Order of Saint Sylvester was conferred on JT at St Patrick's Cathedral Parramatta in recognition of his years of meritorious services to the community and most particularly to the Catholic Diocese of Parramatta specifically in the areas of property and finance, to aid parishes, schools, retirement villages and fundraising.
John (JT) Thomas
JT has an extensive background in the areas of Finance and Funds Management and holds memberships as a Fellow of the Institute of Financial Services, a Fellow of the Australian Institute of Company Directors as well as an Associate of the Mortgage Industry Association of Australia. Additionally, JT is a Justice of the Peace for NSW.
Career Summary
From 1987-2003
JT has been involved in banking, finance and funds management activities for 46 years. After initial training with a major bank, a building society and then a credit union, JT joined the Howard Group in 1987, where he began managing the Howard Mortgage Trust in its fledgling years. When Challenger International acquired the Howard Group in 1997, JT continued his role as CEO of the Howard Mortgage Trust. By the time, JT left Challenger in May 2003, after managing the Howard Mortgage Trust for 16 years, the assets of the Trust had risen to a little under $3billion to be the largest and consistently the best performing trust of its kind in Australia.
The Trust employed over 100 staff and had over 40,000 retail investors and a similar number who invested through platforms and wraps. The fund was awarded the Australian fund manager of the year award in the fixed interest category on 7 occasions. The trust was the only fund of its kind to hold five-star ratings from every major research house in Australia. JT was also instrumental in setting up the Property Trust Division of Howard in 1996 and has been involved with the purchase and management of several large commercial properties since that time. In March 2004 JT launched the Mariner Mortgage Trust and over the next 4 years oversaw its growth to $250million to become the best performing fund of its type in Australia.
JT was Chairman of the Financial Services Council (FSC) mortgage fund sector working group from 2005-2010.The aim of the group was to develop better disclosure regulations within the commercial mortgage fund industry and to lobby government on industry issues. Membership included Challenger, AXA, Perpetual, Colonial First State and ING with total member FUM exceeding $30billion.
Over the years both APRA and ASIC have sought JT's advice on industry matters and have on occasions adopted his recommendations on an industry wide basis. JT is considered an industry leader in the commercial mortgage trust lending space. JT has an enviable record for not having lost one cent of investor funds even during the GFC, in either his mortgage or property fund activities.
From 1976-1986
1986 – 1987    ESSO Employees Credit Union Limited
1980 – 1986    State Building Society (now part of St George Bank)
1976 – 1980    ANZ Banking Group Limited